Changing the Face of Beauty Couch Series
We believe the voice of CTFOB needs to be from the disability community and we are committed to providing a platform for all to speak out about their experience with advertising and the media.
Our hope is that their voice will be heard and changes will be made in the industry to ensure inclusion of the disability community in ad messages all the time.
In fact, the disability community remains the only minority that does not discriminate.  Any person of any race or religion can become a part of this community at any time.  Because of that we are advocating for the entire human race.  Inclusion is important and you are going to hear why.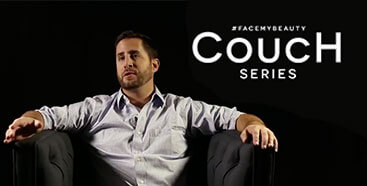 Want an opportunity to be part of our 2017 Couch Series and use your voice and help us to help change the advertising industry? Please use our contact form below to let us know!
The CTFOB Couch Series Presents…Daniel Smrokowski!
We are so proud to have Daniel Smrokowski from Special Chronicles on our Couch Series! Daniel works hard every day to challenge the media message and empower the disability community. Here is his story!
If you believe in what Daniel is saying please share with your community and help us Change the Face of Beauty!
The CTFOB Couch Series Presents…

Rob Gregory
We here at Changing the Face of Beauty look for voices from the disability community that have a passion for inclusion in the media and advertising. Rob Gregory is a retired Creative Director turned Professional Photographer and he shares his story on our couch.
The CTFOB Couch Series Presents…

Owen Chaidez
This month's Couch Series sits down with a passionate advocate for Changing the Face of Beauty. Owen Chaidez talks about "Owen's Playground", his desire to star in a Buzzfeed Taste Test Video, and his role in our Educational PSA Program!